011101000101001000101110101001011011100010110100101010101000101010101110101000111010000110111010001010010001011101010010110111000101101001010101010001010101011101010001110100001111101010101101010010111001010100101010100
011101000101001000101110101001011011100010110100101001110100010100100010111010100101101110001011010010101010100010101010111010100011101000011101010001010101011101010001110100001111101010101101010010111001010100101010100
011101000101001000101110101001011011100010110100101010101000101010101110101000111010000011101000101001000101110101001011011100010110100101010101000101010101110101000111010000111111101010101101010010111001010100101010100
WordPress Backup
EAGLE. The Best Encypted Backup Plugin For WordPress
Your WordPress website needs a reliable backup strategy, otherwise your data can be lost forever. WordPress does not offer integrated backups, so we have developed EAGLE to back up your website automatically, securely and reliably. In case of an emergency you can restore your website completely or just certain files.
Data backup according to EU-GDPR
Easy and Fast Encrypted Backups
Why backup your WordPress site?
Malware
Deleted Files
User Errors
Bad Commands
Hacks
Update Crashes
Server Crashes
A Solid
WordPress
Backup
Strategy
EAGLE, Protect Your Online Work. Featuring a simple user interface for Automated or On-Demand Backups and Easy One-Click Restore.
EAGLE Backup Your Website
While other WordPress Backup plugins only back up the WordPress database, EAGLE Backup all files needed to run WordPress. The automatic backup can be set with just a few clicks.
Pages
Posts
Comments
Widgets
Theme Files
Plugin Files
Users
Database
WordPress Settings
Theme Settings
Plugin Settings
WordPress Configuration
Categories & Tags
Images
Videos
Media Library Uploads
How Does The Backup Process Work?
Files are chosen for backup
Can be restored at any time
Files are archived and entcrypted
Data stored safely in the cloud
EAGLE Backup Features
WordPress backups are like insurance, you urgently need a backup, no backup is available. EAGLE, backups the entire WordPress website with just a few clicks. Configure your backup settings in seconds.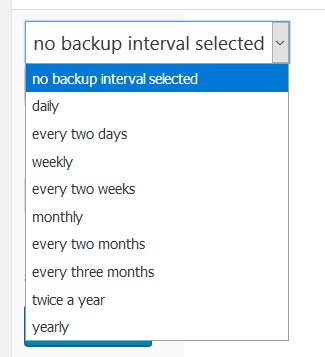 Scheduled backups
Schedule automated backups with just One-Click (daily, every two days, weekly, every two weeks, monthly and more).
In addition to the automated backup function, you can also quickly make a backup at any time before you change an update or something in the WordPress code.
Hosted and practical
Local backups are created quickly. But what happens if the server fails or is hacked? Save time and concentrate on your business.
As an active MYHERO member you can use up to 50GB of storage space and restore backups with 1-Click. Storage space can be expanded flexibly at any time.
Overview of backups
Full control over your backups for all your WordPress websites. Backups that are no longer required can also be deleted here at any time.
Your backups in HERO DASH can be managed even faster from your MYHERO account.
Restore backups
Restoring backups has never been easier than with EAGLE. With a few clicks you can completely restore the backup or just certain structures of your website.
Even well maintained websites crash if a database error occurs or host faulty plug-ins. Protect the future of your website.
Other practical features
Large database support
The ability to import an SQL file individually means that very large databases are supported.
Support for large websites
Our backup technology ensures that even large websites are stored reliably and securely.
Encrypted backups
Backups are encrypted from the first second and then transferred to the cloud. In this way, we ensure that no one can gain access to sensitive data.
Background mode
The integrated background mode consumes less CPU resources for backups and recovery and can therefore be used by other processes.